The Samsung Galaxy S4 and HTC One can be used as remote controls. Here's how to add the feature to your phone, too.
Let's be honest, we take our Android devices Samsung Galaxy S4 with us everywhere. When we're sat watching TV or surfing the internet, it's a decent bet that there's going to be an Android device like Samsung Galaxy S4 or HTC one somewhere close by. Well, what if you could use that Android device to connect to your home entertainment network, tapping on the screen to pause your entertainment, manage fi les and whatever else you're playing with when you're on your PC or smart TV. Well, to coin a phrase, there are some apps for that, and in this tutorial we're going to walk you through getting one set up, and give you a few tips about what to look out for before you buy a new TV to make sure your Samsung Galaxy S4 are going to be happy talking to it. We live in a world where everything is connected, so it makes sense that your Samsung Galaxy S4 should be part of it too. So, without further ado, let's look at the cool stuff your phone and tablet can do…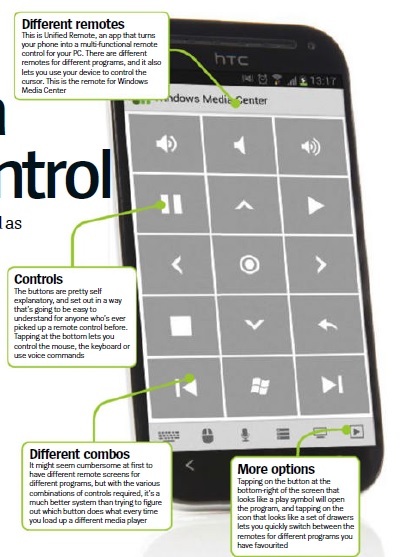 Go get the app for remote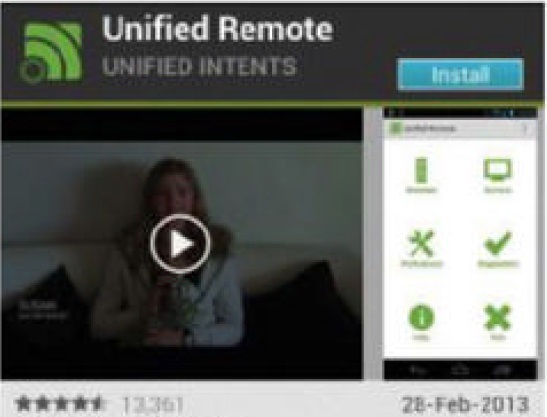 First up, head over to Google Play and grab Unified Remote. There's a free version, but if you like that we recommend grabbing the paid version. It doesn't cost much and it adds extra support for a lot more programs and media players.
Download the server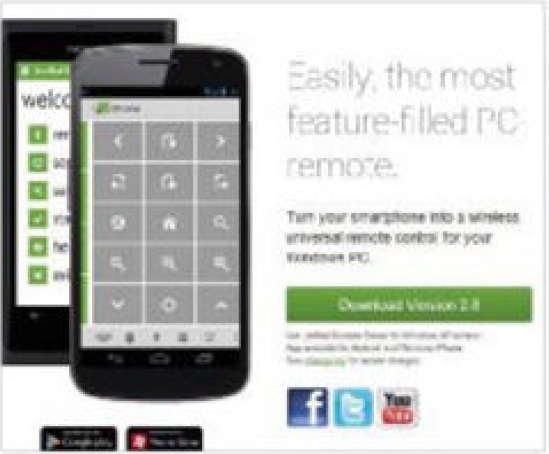 You'll have to download the server that lets your PC talk to your Android device. Head over to unifiedremote.com and download the version of the software that's right for your PC. You'll need to make sure it can get through your Firewall too.
Connect your device
Once the server and the app are installed, tap the button and your phone or tablet will search for your PC. When it brings up the server list, tap on the right one and you're all set to start controlling your PC remotely with your Samsung Galaxy S4.
Set your preferences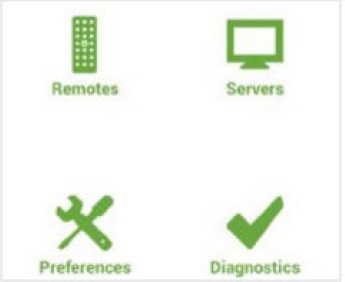 Before you start though, it's a good idea to get everything set up just the way you like it. From the main menu, tap on the Preferences option and you'll be able to have a play round with a vast amount of settings.
Find your players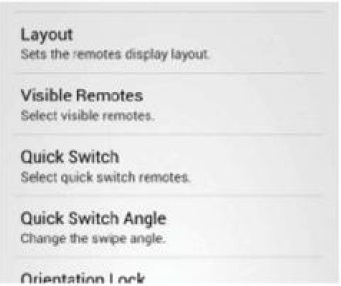 From the Preferences menu on Samsung Galaxy S4 scroll down to Quick Switch. This is where you can set the remotes you're going to be using most. Tap on it, then select your media players from the list to set them as quick switch favourites.
Have a play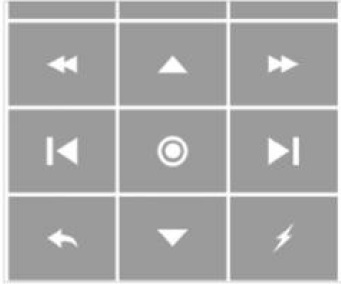 Next up choose one of your remotes on Samsung Galaxy S4. This is the Google Music remote for example. Tap on the bottom-right button to bring up the service or, if it's already open, use your Android device as a touch pointer to navigate to it.
Stay focused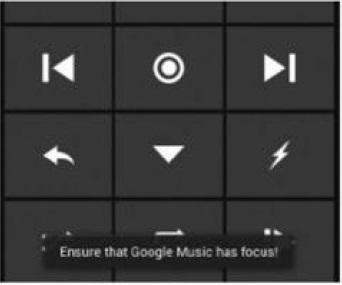 It's important to remember that the remote won't work on programs that aren't currently in focus on Windows. It's simple enough to rectify though thanks to the fact you can quickly use the remote as a touchpad or keyboard.
Get adventurous
You can set up customised widgets on your home screens on Samsung Galaxy S4 so that you don't even need to open the app to get control. It's pretty complicated to set them up though, as you need to program what the different buttons do.
Show off to your friends
It doesn't take much to connect a PC to your TV, which means with a few cables and a bit of know-how you've now got a media system controlled wirelessly from your Samsung Galaxy S4. Just make sure you don't run out of charge.